Big Malki has been stamping his mark on breeding for 10 years!
Big Malki has reached yet another milestone in his career - he is celebrating his 10th birthday and is still in super condition. This breeding bull - who is known for his tendency to stamp his hooves - has also literally stamped his mark on today's breeding landscape. Big Malki was bred by the Knoef family from Geesteren and offers a unique pedigree: Hoekland Maik x Skalsummer Jorryn x Leroy Abrian - all presented in a striking jet black appearance that no one can fail to overlook. Big Malki has demonstrated his value in the breeding world during an era when there was a pressing need for the highly sought after aAa code 165.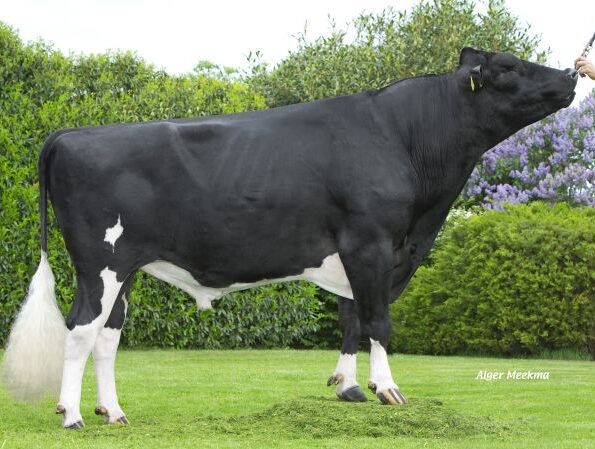 Breeding technician Jacques Dings was convinced of Malki's strengths right from the start, and has therefore often been referred to as Mr Malki. Jacques: "With its portfolio of bulls, K.I. SAMEN helps farmers ensure their barns are populated by healthy, problem-free daughters with high longevity and high lifetime production. Many farmers in the past have consciously chosen to use Big Malki's genetics. They see the positive results of this choice confirmed by the performance of their herds."
Top conformation and increasing production
Jacques continues: "Big Malki daughters mature into impressive dairy cows that retain their top conformation and yield production that increases across the lactations. They have an average stature, a trait that is currently very popular again among dairy farmers. His daughters have amazing udders and superior quality feet and legs. Even just during his evaluation period for the proofs, 19 of his daughters were ranked excellent and plenty more will follow."
Progeny groups all merit excellent
During the NRM cattle show in 2017, Malki left his imposing calling card for the first time in the shape of a uniform group of wonderful heifers. At the NRM in 2019, a legendary group of daughters with calves was shown. Several daughters have now achieved the excellent status.
AI organisations eagerly use Malki sons, and Malki daughters as a bull dams
Over the years, many AI organisations have tested and used various Big Malki sons and used his daughters as bull dams. Malki's best known daughter is Sandra 2 (EX92) who is the dam of VDR Slash.
Allowing cows to age
Cows that reach an age that is on average a year older are financially interesting. An important condition is that they have the ability to cope with living longer and achieving higher lifetime production. With his outstanding results for late maturity, very good hoof health and amazing longevity, Big Malki has indisputably proven himself in practice and can be considered a cornerstone for Holstein breeding.