Bas Engelen brings home the rosettes thanks to champions at Winter Show in Asten-Heusden
Breeding station and dairy farm K.I. Samen, owned by the Engelen family from Grashoek, came home from the Winter Show for the south Netherlands region organised in Asten-Heusden with plenty of rosettes. Of the 16 cows taken to the show, 12 reached the final and all 12 competed in the ring for the prizes. The result was two all-round champions, three reserve champions, the best herd group in the black-and-white category and triumph in the red-and- white category crowned with the Bas Engelen trophy.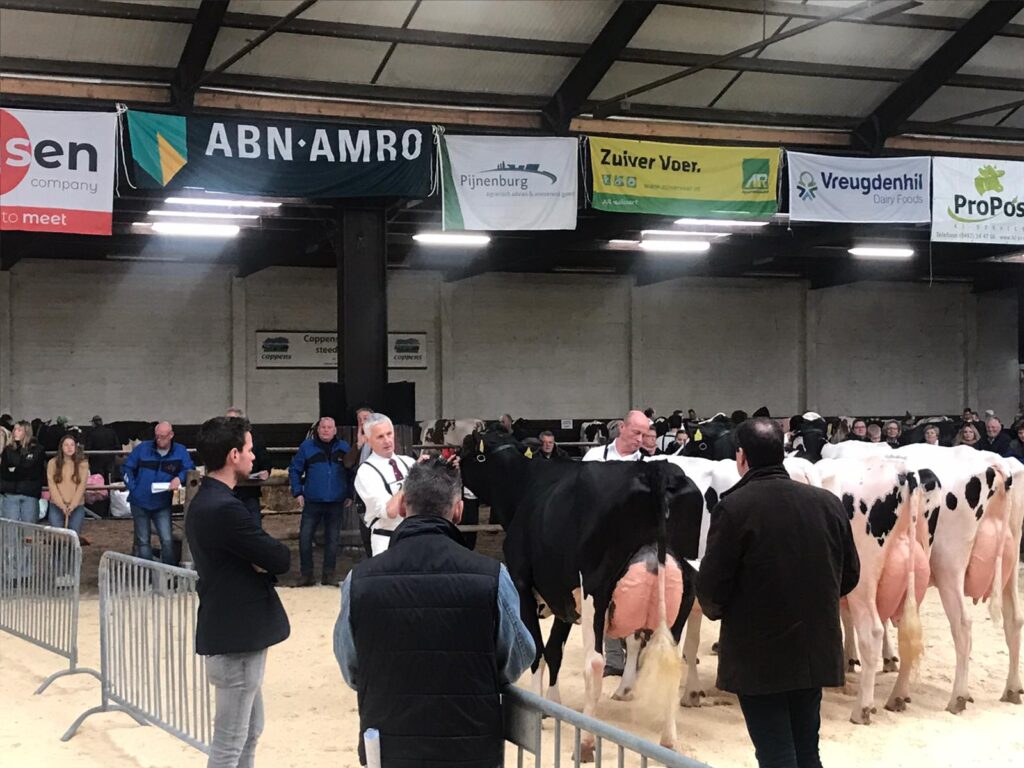 Icing on the cake
So many champion titles is an achievement that fills the Engelen family with pride. Ralph Engelen: 'We firmly believe in our practical approach to breeding and so many winners just confirms this. As a family, we are especially proud of the winning the title for the best red-and-white farm group. That is where it all started 40 years ago and bringing home the Bas Engen trophy in our anniversary year really is the icing on the cake!'
Two overall champions
Glinzer Jettie 233 (s Malki) was crowned overall champion in the black-and-white class. The jury called her a flawless cow; typical of the cow that every farmer wants in their herd. Every bone in her body is in the right place.
Glinzer Beatrix 91 (s. Jotani) was praised for her capacity, width and her high rear udder placement. A special mention was given for the Reserve champion Grashoek Janna 155 (s. Macgyver) was particularly praised for her prominent udder veining.
De beide 'Glinzers' zijn gefokt foor familie Vos volgens de fokkerijwijze van K.I. Samen. Sinds drie jaar zijn de koeien eigendom van het fok- en melkveebedrijf K.I. Samen. Ook de aanwezige familie Vos keek met trots toe hoe deze koeien kampioen werden.
Goose bumps with intermediate class championship
The intermediate class championship was an absolute goose bumps moment for the Engelen family and the many K.I. Samen employees watching from the ringside. Of the 10 champions on show in the ring,  eight represented K.I. Samen, with all five red-and-white cows from K.I. Samen and three of the five black-and-white cows.
Photo: family Engelen
Three striking herd groups
Bas Engelen trophy for best herd group
Following the death of Bas Engelen, K.I. Samen introduced the Bas Engelen trophy which is awarded to the best herd group at the Winter Show for the south Netherlands region. According to the presenters, this trophy has already graced many different living rooms, but can now come 'home' to be admired at breeding station and dairy farm K.I. Samen.
Movie 'Zuid-Nederlandse Wintershow'