Grasdag 2023: Silage harvesting, roughage and well-balanced dairy cows.
Protein-rich grassland contributes to producing healthy milk and healthy beef. And everything you can harvest from your own land doesn't need to be sourced elsewhere. Our breeding philosophy aims to produce a practical cow with the ability to intake a lot of forage and convert it into milk. The form and function of a cow must be well balanced to enable her to convert grass into high milk yields. All these facets are being combined: in collaboration with publishers Misset, we can show visitors everything about growing and harvesting grass for silage, roughage processing and well-balanced dairy cows in practice during the Grasdag 2023 event.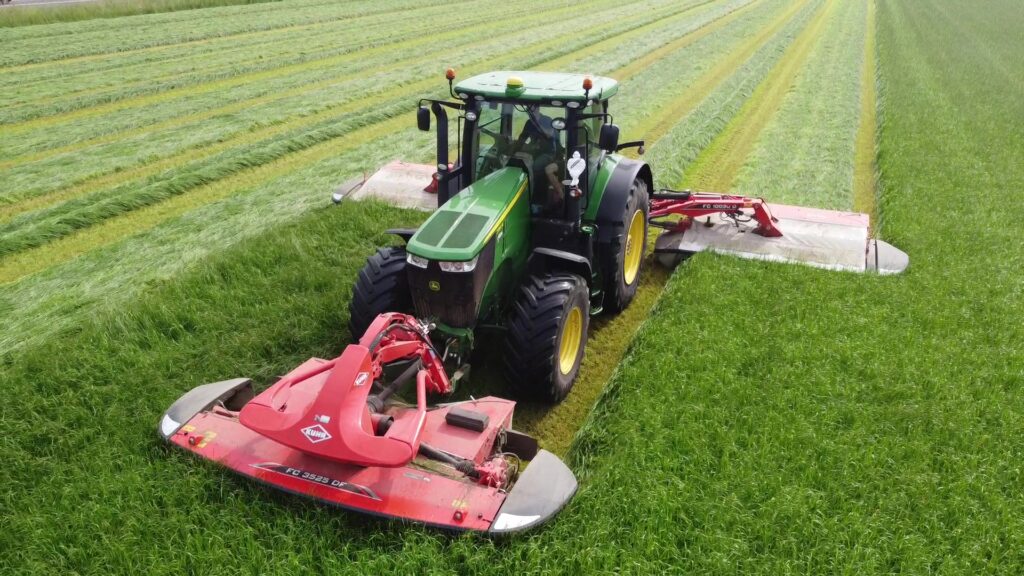 How much milk can a cow produce with roughage from your own land?
The form and function of the cow must be in balance to intake a lot of roughage. Our motto is and remains: look at the cow! What does a cow need to bring even more balance to the next generation? Ralph Engelen explains: "The breeding goal of K.I. SAMEN is to use 'Samen' sires to breed cows that last for at least four lactations and are able to achieve at least 50,000 kg of lifetime production with good component percentages. We'd like to show in practice how we achieve this on our breeding station and dairy farm during the Grasdag event."
Daughter groups
K.I. SAMEN improves the next generation of cows using mating advice and the genetic material (doses) of SAMEN bulls. Ralph continues: "We have proven ourselves in practice in breeding for over 40 years. We often show daughter groups to present the results of our breeding strategy in practice. And that's just what we will be doing at the Grasdag. In fact, there will be several daughter groups on show".
Bull presentationstierpresentaties
There's nothing as impressive as a bull. "From a stand, visitors can admire a selection of our bulls twice a day during a live bull presentation. We'll also explain more about the background of the bulls. Seeing top bulls in the flesh is a unique experience", says Ralph.
The Grasdag has a continuous programme
The Grasdag offers a continuous programme featuring various activities that run from 9.00 hrs to 17.00 hrs. "In the knowledge barn you can join presentations given throughout the day by leading speakers in the field of growing and harvesting silage grass and roughage. Presentations will also be given continuously in the barn. There are also live demonstrations during the day: feeding, feed pushing, cutting, tedding, raking, silaging and post-treatment. Take a look the wide range of brands shown together. Or visit the various stands where exhibitors will be presenting their latest grass-related innovations and products. Get information, ask questions, and use this networking opportunity," continues Ralph.
"The biggest and most imposing machinery and implements can be found in the machinery zone. Take a peek under the bonnet or in the cab, the specialists are happy to tell you all about the machinery. Small groups can also take part in practical workshops spread out through the day on silaging, different grass varieties, feed management or soil improvement. Self-driving machinery, drones and grassland measurements are all developments you can find in the meadow of the future. Various precision techniques for grassland can be admired live throughout the day here. There will also be demos of various tractors, telescopic handlers and mini loaders. In between the demo sessions, everyone can take a drive in the tractors around a track", says Ralph.
CONCLUSION OF ANNIVERSARY YEAR K.I. SAMEN
Ralph: "The Grasdag 2023 event on 22 and 23 June concludes the activities organised to mark the 40th anniversary of K.I. SAMEN. The Grasdag is a great occasion for us to meet all the customers and visitors."