HOEKLAND BONO, THE PRODUCT OF A STRONG COW FAMILY
The story of a cow family always starts with a foundation cow. This story starts with the 84-point Sjannie 9 (s. Tops). She was born in 1990 and noted lifetime production of 73,315 kg of milk. Sjannie 9 was remarkably fertile and matured late. She never had a calving interval of more than 391 days and improved on her first lactation record of 8,325 litres as a heifer to reach 11,617 litres on her seventh calf.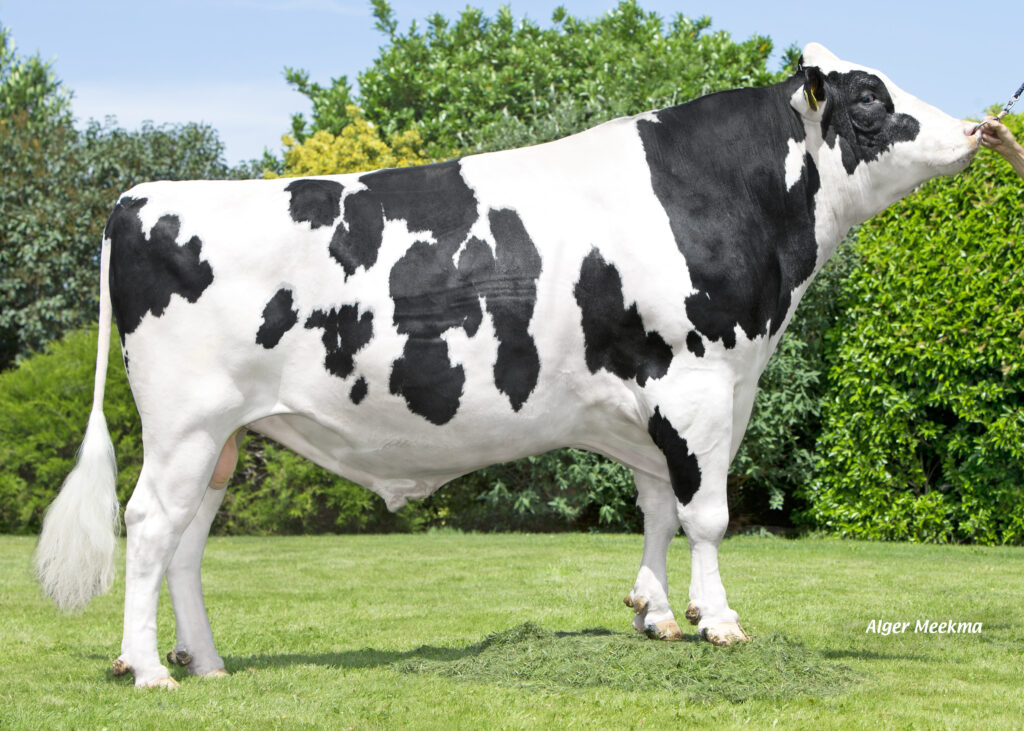 Sjannie 9 produced a daughter by Hodges, Sjannie 13. Sjannie 13 also performed well: three lists with lactation values of 118, 117 and 116. She gave birth to a lovely heifer: Hoekland Sjannie 18 (VG 86) (s. Sunny Boy). This cow epitomises all the qualities shown by the Sjannies. Sjannie 18 started with a modest performance as a heifer, but got better by the day. Over the course of ten lactations she produced 118,388 kg of milk with 4.85 % fat and 3.64 % protein and achieved 10,000 kg of fat and protein. Mating with Ronald produced Hoekland Sjannie 28 (VG 88), who managed lifetime production of 101,540 kg of milk with 4.40 % fat and 3.61 % protein. Sjannie 28 was also an extremely fertile cow and consistently performed well above the farm average. She shared her dam's late maturity and stood out in the herd. She was a very strong, extremely correct cow with an amazing character.
Sjannie 48 the mother of Hoekland Bono
Pairing Sjannie 28 with Mascol produced the well-known bull Hoekland Maik. He certainly deserved his impressive track record, and leaves a wonderful breeding legacy carried on by his many sons. Hoekland Maik's half-sister, Stylist daughter Hoekland Sjannie 41, is not a particularly striking cow, but she is extremely productive with lifetime production of 62,761 kg milk with 3.80% protein. Her daughter by Twist – Sjannie 48 – is another unassuming cow who produced more than 55,000 kg of milk with 5.08% fat and 3.79% protein in five milk lists. She is the dam of Hoekland Bono, who is the result of a combination with Bookem.
Hoekland Bono's daughters are already on their third lactation and have created many satisfied farmers. 'They are fine examples of what you want in a dairy cow', is an often heard remark. Not too large and with good dairy type. They have good udders, that actually score higher with the third calf than when assessed as heifers. Their legs are strong and sound with great locomotion. Calving ease bull Hoekland Bono also scores well for secondary traits and passes on A2A2 for beta-casein. To sum him up, a bull that is supremely suited for commercial dairy farmers. 
361043 | HOEKLAND BONO
aAa: 243 561
Bookem x Twist (B+ 84) x Stylist (AB 85) x Ronald (AB 88) x Sunny Boy (AB 86)
Calving ease bull
Youthful heifers with modest stature
Good udders and legs
Improves milk production, fat and protein
From the Hoekland Maik family
Beta-Caseïne A2/A2