Index run: what you can add to the existing package
When you aim to improve the replacement stock for the new generation in the herd, you have to identify which traits should be added to the existing package. In terms of breeding K.I. Samen always considers variation. K.I. Samen examines the good results of a cow family's performance in practice and deploys bulls that offer easy and versatile options for farmers.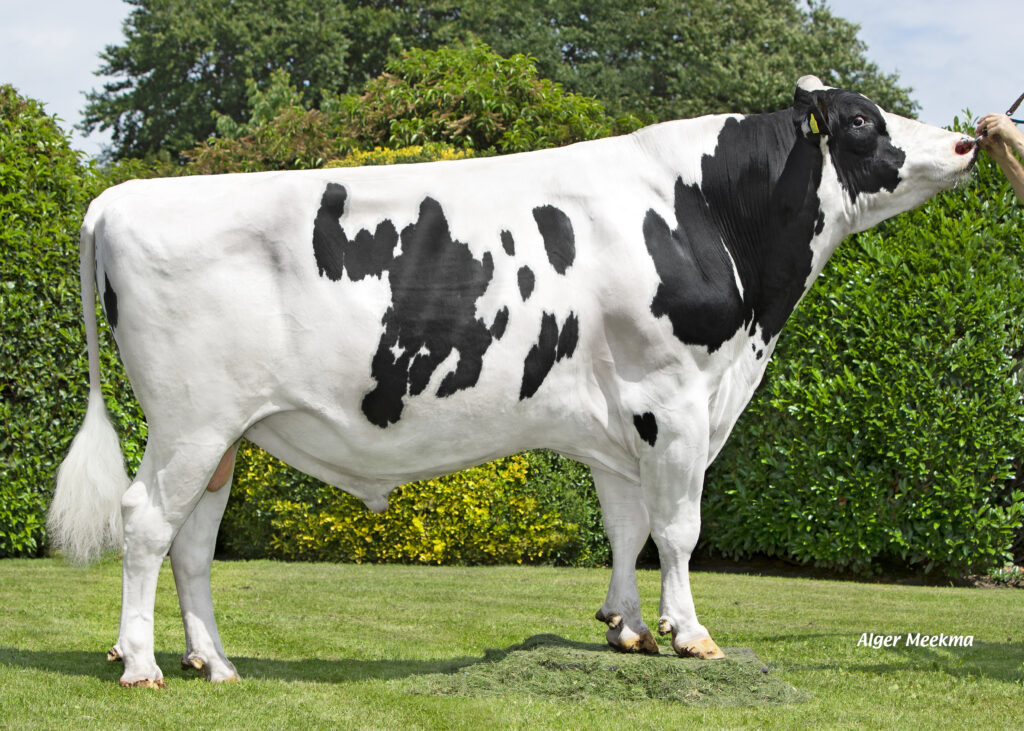 The top performers are continuing to improve and follow the expected trend
Tracking the performance of bulls in each index run reveals the trend in their development. As their number of lactating daughters increases, the bulls continue to demonstrate their qualities. In practice, we see time and again that breeding bulls from K.I. SAMEN keep on improving. This index run shows yet again that the top performers at K.I. Samen are continuing to improve. Take VDR Slash (Balu x Malki x Minos), for example. He has improved the milk yield in his index and added points to the scores for udders and legs. He scores excellent for legs with sensational claw health! VDR Slash originates from a highly successful cow family that has high components and good conformation embedded in its DNA. With his aAa code of 153 and beta casein A2/ A2 and kappa-casein BB, he also offers highly sought after traits.
De Volmer Barbaros (Silver x Iota (EX 89) x Shottle (EX 92)) is distinguished by his all-round transmitting abilities. Barbaros has also moved up a few places again in this index. He descends from the successful Shauna and Barbie cow families. Barbaros daughters have plenty of capacity and very good udders. Barbaros will contribute high volumes of milk with high percentages of fat.
Newcomer in breeding bulls
A newcomer among the breeding bulls is Grashoek Mareno (Cogent Bill x Maik). His specialism is components and he has A2/A2, aAa code 546 as well as being a calving ease bull. His typical "SAMEN" pedigree of Bill x Maik (VG 87) x Jorryn (VG 88) makes Mareno an interesting proposition on our bull chart. The beautifully balanced Mareno daughters are of average stature and feature sensational width. Mareno merits highly positive scores for all health traits including daughter fertility and somatic cell count.
New production prodigy makes his debut in red-and-white segment
Following previous breeding successes in the past with Curtis and Kairo, this August index run saw the debut of Apina Movistar (aAa 543) – a descendant of the highly productive and influential Massia family. Movistar's pedigree (Nova Star x Solero (VG 87) x O- Man (VG 87)), can inject fresh blood into the red-and-white Holstein population. Movistar's daughters are of modest stature and have some additional muscle. They have shallow udders with firm rear and fore attachment and shorter than average teats. His daughters stand on good legs and move well. Movistar transmits plentiful milk with a high protein percentage! Movistar is imminently suited as a calving ease bull and was awarded high scores for health traits including for daughter fertility and somatic cell count.
Superior in the index run
Huntje Holstein Red River descends from the Anemoon family (Fraiko dam) and was sired by Riverboy. His daughters have very good conformation with excellent scores for udder health and fertility. Red River enjoys an excellent ranking in the Dutch index but also belongs among the top bulls in the Dutch and German merit index.
Practical proven breeding
K.I. SAMEN is the largest, privately owned AI station in the Netherlands. Through close cooperation between the AI station and the dairy farm next door, we can see the results of our breeding programme immediately.
We are active worldwide and sell bull semen from our head office in the Netherlands as well as through a network of distributors. In relation to genetics, our philosophy is based on proven practical breeding.