Jeroen van Maanen receives first 'Bas Engelen Award'
K.I. Samen has presented the first Bas Engelen Award to cattle farmer Jeroen van Maanen. The Engelen family handed the trophy to Jeroen van Maanen during a specially organised ceremony.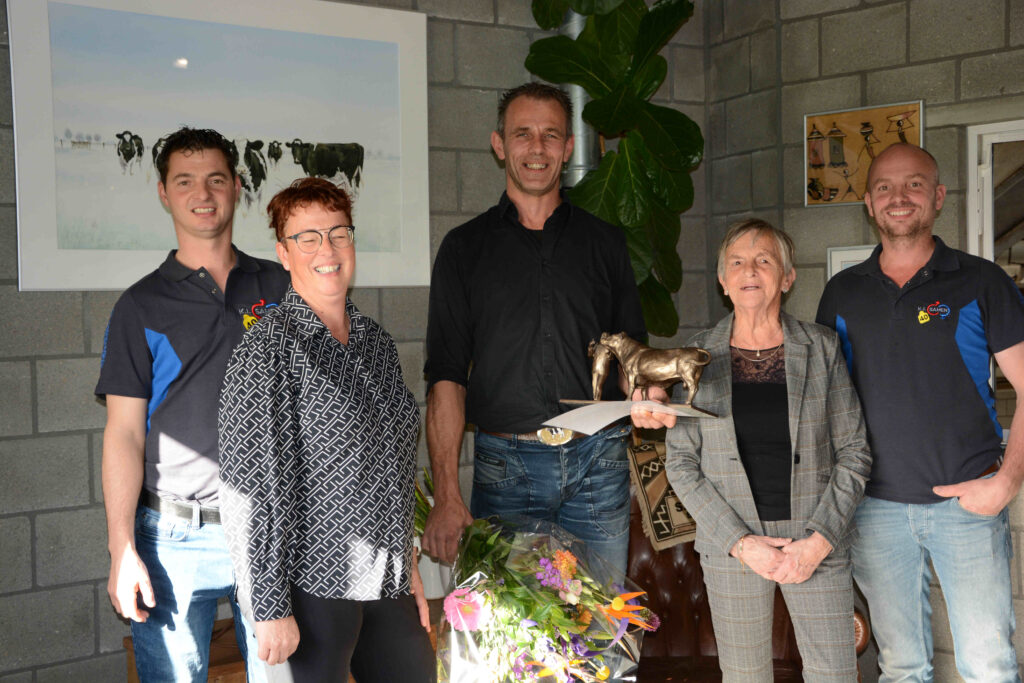 Bas Engelen award
The Bas Engelen award was created to recognise cattle farmers who carry on the breeding philosophy and vision of Bas Engelen  – one of the founding fathers of K.I. Samen – and who represent and promote the interests of dairy farmers. The award was created to celebrate the 40th anniversary of K.I. Samen and will be presented to a farmer every two years. A specially formed committee nominates potential candidates for this award.
First award winner Jeroen van Maanen
Van Maanen defended the position of Dutch dairy farmers with verve in the heated debates surrounding nitrogen emissions. He expressed his opinions in clear and carefully chosen terms, and remained true to his convictions. He exemplifies the ambitions that drove Bas Engelen; breeding bulls and standing up for farmers. Jeroen van Maanen has bred bulls including the Lineback Linedancer Pp. Durango – the son of Linedancer and also a Lineback– is still sold by K.I. Samen. Van Maanen was praised by K.I. Samen for his skill in making a narrative come alive and explaining complex issues in simple and relatable terms.
Van Maanen is proud to have won this award and considers it a valuable recognition of his work. He emphasises the interest of farmers once again: "It is an illusion to think the interests of farmers are portrayed realistically by the media without telling their story from the farmer's perspective. Politicians have too little empathy or real understanding of the interests at stake. In the political world, potential problems are immediately seen as a crisis. In our world – and our business happens to be farming – we look at whether something is an issue in practice, whether the problem is confined to just a single farmer or whether it is a problem that affects us all. Then we look for a sustainable solution."
K.I. Samen hopes that Jeroen van Maanen will continue his excellent work and congratulates him on winning this very well-deserved award.
About K.I. Samen
K.I. Samen is a herd improvement organisation with a breeding vision that is based on proven practical breeding. Through close cooperation between the AI station and the dairy farm next door, the organisation sees the results of its breeding programme immediately.