At KI Samen, the bulls are proof of proven success!
Since its establishment in 1982, proven bulls from interesting national and international cow families have formed the foundation of the breeding strategy at K.I. Samen. The aim is to breed balanced cows, resulting in a long-lasting and highly productive herd. Bulls including Big Malki, VDR Slash and Huntje Holstein Red River prove that this aim works in practice.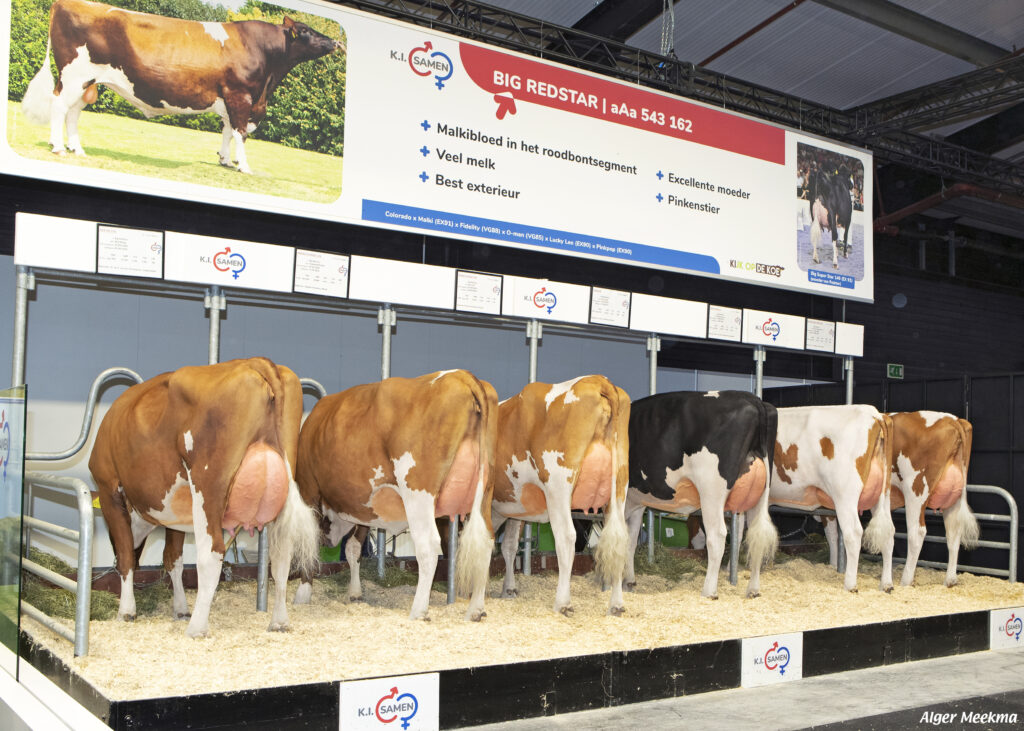 Big Malki preeminent supplier of excellent cows
Big Malki is the name behind 11 of the 187 black-and-white cows ranked excellent in the past year (01-09-2021 to 31-08-2022). This gives Malki the greatest influence in the conformation ratings for the black-and-white segment. This is a unique accomplishment, especially if you consider it as a percentage. Additionally, one of his first daughters is soon set to smash the barrier of 100,000 kg of milk, which is very quick in view of his age.
VDR Slash firm fixture among top proven black-and-white bulls
VDR Slash is a firm fixture among the top proven bulls. VDR Slash (Balu x Malki x Minos) is a KI Samen bull with width. Malki daughter Sandra 2 (EX 92), the dam of VDL Slash and currently on her 6th calf, has made an important contribution to this. She is the foundation dam of a highly successful cow family that has high components and good conformation embedded in its DNA.
In addition to these typical Sandra traits, Slash also offers many traits that are desirable for cows with the potential to produce 100,000 kg of milk. Hoof health (109), locomotion (106), stature (99), fertility (104) and somatic cell count (107) can make a positive contribution to achieving this goal. With his aAa code of 153642, beta casein A2A2 and kappa casein BB, he offers an attractive package of additional, highly desirable traits. VDR Slash also turns out to have a high fertilisation capacity and gives good maternal calving ease.
Reliable outcross bull Red River maintains his leading position internationally
Huntje Holstein Red River descends from the Anemoon family (Fraiko dam) and was sired by Riverboy. He passes on milk in abundance with neutral components. His daughters have good conformation and he has excellent scores for fertility and udder health. The combination of an above average milking speed (102) with a super somatic cell count (111) is particularly striking. These traits result in longevity of +504 days for this calving ease bull. Red River has maintained his leading position in the international index runs too.
If you want a polled herd, look no further than KI Samen. The number of breeding bulls in this segment continues to steadily increase. With D'n Driehoek Red Devil (Pp), Poppe Fame (Pp) and Grashoek Conqueror (Pp) we not only offer very good red-and-white breeding bulls that carry the polled gene, they can all boast outcross pedigrees. 
High interest for progeny group of newcomer Big Redstar

Many farmers admired the progeny group of Big Redstar (Colorado x Malki x Fidelity) at the RMV in Hardenberg. The red-and-white son of Malki daughter Big Super Star 146 (EX 91) produces powerfully built daughters with plenty of chest width, and beautifully parallel front and rear legs. They also have lovely quality udders, with good rear and fore attachment. Daughters of calving ease bull Redstar are also applauded for producing plenty of milk without compromising on muscle condition.
Bobo new number one in the Belgian Blue beef on dairy breeding programme
Bobo van de Graashook is the new number one in the Netherlands for calving ease (136) and has overtaken his hugely popular sire Bruno van de Plashoeve. With 88 for gestation time, Bobo has an almost identical score as Bruno, which is very short. The KI Samen bulls Beer, a full brother of Bobo, and Brutus from the same family as Bobo, also provide the proof that KI Samen operates the most comprehensive, efficient and innovative breeding programme for Belgian Blue beef on dairy crosses.