PROVEN BULL IN THE SPOTLIGHTS: RED RIVER
The foundation at K.I. SAMEN is formed by outstanding cow families. One of the most prominent lines in recent years, particularly in terms of the red-and-white population, is the line headed by the Canadian Dutchglen Chieftess. This cow family stepped into the spotlights in the Netherlands in the shape of her daughter Dutchglen Sugar Cleitus (EX 90).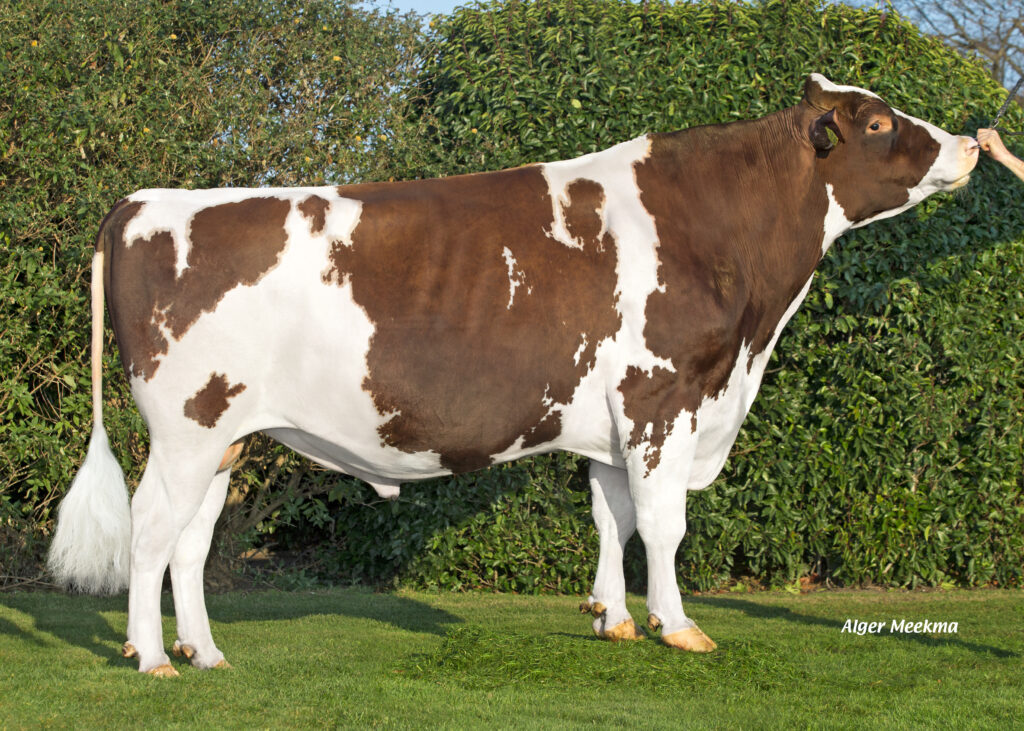 THE GENERATIONS OF RED RIVER: SUPPLIER OF SHOWRING STARS, BULL DAMS AND BREEDING BULLS
Imported embryos sired by the Canadian prolific milk transmitter Aerostar resulted in the red factor carrier Yava rf and the 87-point ranked Warsau. In the Netherlands, Warsau is the point of origin of three different lines that have been supplying showring stars, bull dams and breeding bulls for years: the Warsau, Warsi and Anemoon families. Their progeny include the breeding bulls Brasil rf, Mason rf, Lazar P, Effort and Red River.
The Anemoon cow family
We will restrict ourselves to the Anemoon branch, that includes the K.I. SAMEN bull Red River. The cow family behind Red River was established following the acquisition of Cash daughter Anemoon. Anemoon was out of the excellent classed Lotje, who was a daughter of the previously mentioned Warsau. Through daughters by Atlas and Glorybox we arrive at one of the many cows in this line with outstanding classification results: Anemoon 16. Like her half-sister Anemoon 17 (s. Lichtblick) and her Ladd P granddaughter Anemoon 147 (EX 90) this 90-point Classic daughter won several championship titles.
Red River scores high for durability
The following generations in the pedigree of calving ease bull Red River have outstanding conformation (88 x 90 x 88), as well as good milk yields with good component percentages. The Anemoons achieve generous lifetime production, which is also reflected in Red River's high scores for durability. In addition to bringing good production and conformation to the herd, Red River also excels in adding late maturity and super udder health. These traits have resulted in a positive rise in his inheritance scores over time.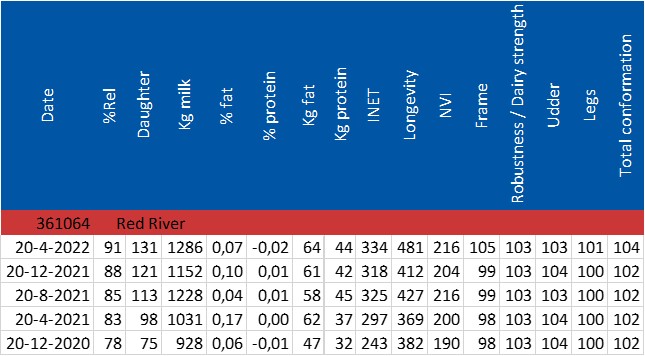 Huntje Holstein Red Ravello
In the shape of his full sister Anemoon 183, Red River has found a worthy successor in the family.  Sired by Riverboy, Anemoon 183 (EX 90) shares many similarities with her full brother Red River (including udder health, conformation and production). This makes K.I. SAMEN very pleased to announce the imminent availability of her son by Ravel Huntje Holstein Red Ravello.
361064 | HUNTJE HOLSTEIN RED RIVER
aAa 234156
Riverboy x Fraiko rf (VG 86) x Burgos (EX 90) x Kylian (VG 88) x Classic (EX 90)
Good transmission of all-round production and conformation
Persistent milk production
Super udder health and fertility
Outcross and kappa caseïne BB
Breeder: Mts. Oudenampsen-Ruiterkamp, Laren