"Since we started breeding with K.I. SAMEN, we've had the right results."
The Bots dairy farm is located in the Dutch Achterhoek region, close to the German border. Together with her uncle Henk and aunt Hermien, this is where Kim Bleumink runs a dairy farm with a herd of 110 cows. Kim became a full-time partner in the farm in 2015, and has plenty of freedom to express her vision of breeding at the farm. The herd management strategy was reviewed eight years ago, and attention shifted from the figures to a focus on the cow.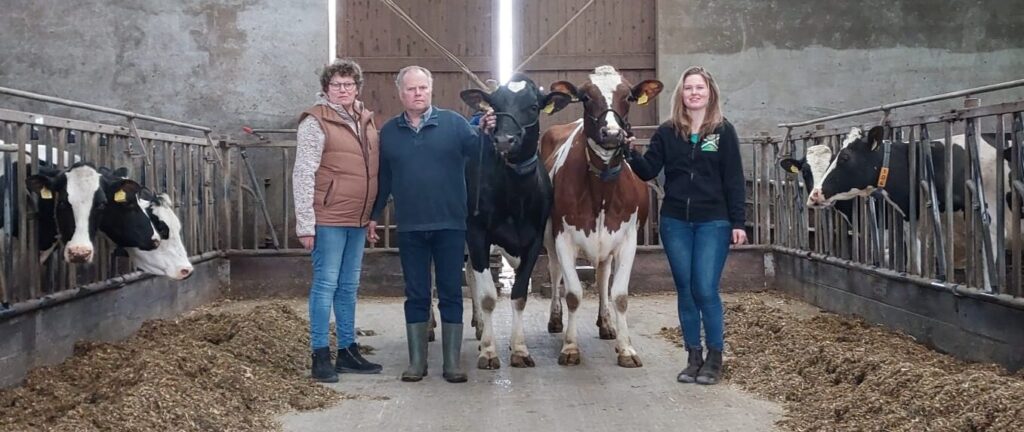 Henk took over the running of his parents' farm at a young age. "Back then, the obvious place to go to for breeding advice was your local AI station. Our herd wasn't as it should be so we tried a different strategy each time. But we always came up against the same problems and none of our attempts were successful. There were too many cows suffering from health problems and the cull rate was too high. We were drifting further and further away from our goal."
Excursion to K.I. SAMEN
In 2011 Kim joined an excursion to K.I. SAMEN. "At the K.I. SAMEN breeding station and dairy farm, I saw a different way of breeding cows for the first time", says Kim, "Breeding balanced cows! I learned about the philosophy behind K.I. SAMEN: looking at cows from a practical perspective, and I saw the results and uniformity in the barn with my own eyes. We also saw new generations of bulls with diversity in their pedigrees and the aAa code system was explained. I was so inspired by what I saw that I immediately bought a book about the AaA system" Kim laughs. "But, unfortunately, I didn't put any of that insight into practice at the time."
A learning pathway to progress
A few years after the visit to K.I. SAMEN, Kim opened her Triple A book again and asked an aAa analyser to analyse her herd. What the herd needed was a bull with more rounded traits. "We were tired of struggling to find a solution and came to a decisive decision. We got in touch with K.I. SAMEN straight away, now exactly eight years ago. We completely overturned our breeding strategy and refocused on achieving much higher lifetime production with good components, and breeding trouble-free, persistent cows that were less work to manage. We started using the first bulls from K.I. SAMEN, and followed the learning pathway of the aAa system. Gradually we noticed the pieces falling into place for the desired results."
Positive results and a good feeling
Milk production has considerably increased in the past few years. "Previously, production averaged 8,000 litres per cow per year and now we are achieving close to 10,000 litres" Kim continues. "We have a lower replacement rate and higher lifetime production with more or less the same component percentages. In addition, unplanned culling is less than eight years ago; the cows can take care of themselves far better. If we look at our herd today, there are some surprising heifers. That makes us feel really good."
Breeding was a rat race
"Before, breeding was like being caught up in a rat race, a never ending struggle with no perspective of good results", Kim goes on. "It bothered me that the consultant didn't actually look at the cows. The data was tapped into a mating advice programme and the breeding selection – based on figures – rolled out of the printer at the press of a button. The scores on an index don't influence me that much anymore. I prefer to look at the cow and now, together with K.I. SAMEN, I know what I need to do to introduce balance into my herd. We are finally on the road to success" according to Kim.
"Making decisions together."
Breeding consultant Hans Wargerink knows very well what Kim is looking for. On the Bots farm, they don't want extreme bulls, because extremes mean problems. Hans: "With us the decisions are up to the farmers. We look at the cow together and then decide what that cow needs to improve the next generation. A bull must suit the cow, but also match what the farmer wants. Variation in pedigrees is a very important factor here. Kim looks for bulls with aAa codes and pedigrees that complement her cows, and young bulls from proven cow families. Bulls currently in the pipeline are Malki, Malando Evergreen, Geronimo rf, Redstar, Redmax, Radar Love Red, Supershot, Silvester, Slash and Bruno."
Profile
Farm: Bots V.O.F.
Location: Rekken (NL)
Land: 50 ha.
Herd: 110 dairy cows, 60 young stock
Breed: Holstein Friesian
Average production in 2022: 1,055,458 kg, 4.31% fat and 3.45% protein
Photogenic and tough choices
"None of our cows was ever photographed", says Kim. "We had an average conformation level of 79 points for a long time, but we realised that it wasn't good. Now we have cows in our herd that are worthwhile photographing! Beautifully balanced cows with lovely conformation. And in fact, we have a different problem today" laughs Kim, " Our cows are much better and it's a tough choice deciding which ones to get rid of."
Shows
"We have even started to compete in cattle shows. I never thought we would end up doing that! I have to say that our goal is not breeding show cows. We aim for production with good components, longevity, well balanced, self-reliant and healthy cows that can convert a lot of roughage into lots of milk. We want a problem-free herd, but a show-worthy cow is a nice bonus too."
Champions
Bots Gusta 181 (s. Geronimo rf) was the second K.I. SAMEN heifer to represent the Bots farm at a show. This Geronimo daughter came third. Kim beams with pride: "After that there was no stopping us. We went every year." Some time later, Kim took part in a video classification with Bots Truus 129 (s. Repairman). In 2021 Bots Coba 39 (s. Malki) won the title for heifers at the cattle show in Eibergen (NL) and the following year this wonderful, well-balanced heifer won the video classification at the VVB Silvolde show. Kim proudly says: "She was the most attractive heifer and by far the smallest in the ring."
"Together with SAMEN"
"It's a really rewarding feeling to breed good, correct cows with a smaller than average stature that can also hold their own in the show ring. I'm so glad I dared to be different. And ultimately, choosing to work with K.I. SAMEN and choosing a better breeding philosophy, is also what enabled us to compete at shows. We really did it together!", concludes Kim and she laughs at the pun. (The English translation of SAMEN is together).