KI Samen has set its own breeding strategy for forty years already 'We believe in practical truth.'
KI Samen was established in 1982 by Antoon van Nieuwenhoven and dairy farmers Bas and Theo Engelen. Forty years later, this privately-owned Dutch AI company still exudes lots of enthusiasm and passion, but has also certainly reached maturity. They operate from their own strength, with a direct link to the field and their sights on the future. Still consistently according to their well-known breeding strategy: KI Samen 2.0.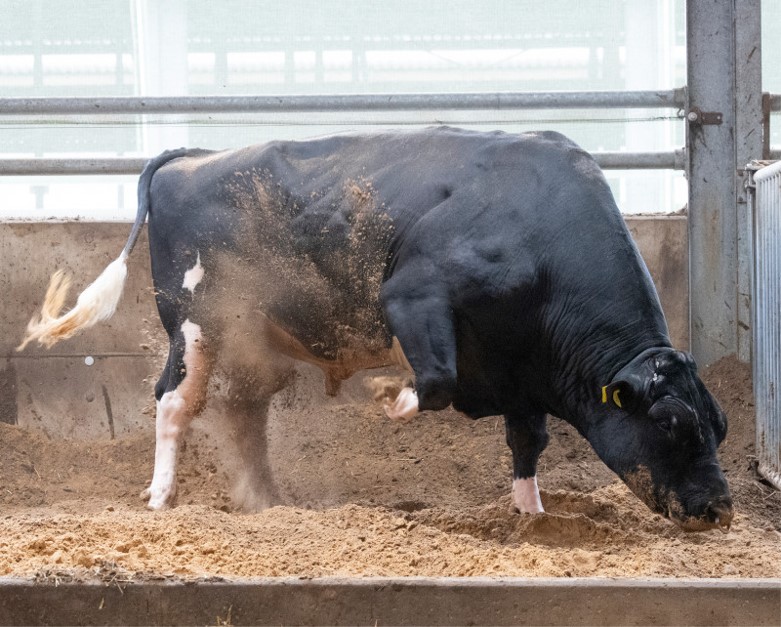 Dozens of red and blue balloons adorn the reception area of the breeding and dairy enterprise Samen, which offers a beautiful view of the rotary milking parlour and free stall barn. 'Just this past weekend, we celebrated our 40th anniversary with all of the employees,' tells Patrick Friesen, while his colleagues Guus Verhaag and Gerard Scheepens join the conversation in the meantime. Everyone at KI Samen is proud of the history and what has been achieved in four decades. But for the most part, they prefers to talk about today's happenings and plans for tomorrow. 'As an enterprise, we are in the process of major changes. KI Samen 2.0. We want to be an engaged partner for our customers, in the broadest sense of the word. Offering them a strong alternative in global cattle breeding,' says Friesen.
DANGERS
That alternative is highly necessary, indicate Verhaag and his colleagues: according to them, cattle breeding has become too one-sided. 'We see two large dangers in global Holstein breeding; increased inbreeding and a lack of variation in the build of sires (aAa code),' states Verhaag, who immediately brings in the figures. Last year, at all of the AIs world-wide, a total of 2000 Holstein sires were coded for aAa. Of them, no less than 81% received the code "234" – a 4% increase compared to a year earlier. For the sake of comparison: at KI Samen, 49% of the sires received the code "234".
The model always rewards the same genetics. For that reason, more and more of the same is being bred and variation decreases; cows are becoming taller and imbalanced. Because variation is continually declining, it is becoming more difficult to correct.' For KI Samen, this is reason not to adopt the generally-embraced breeding model; they use an alternate method of selection. Verhaag: 'Breeding is cattle improvement, that we do not always see back in the field. We believe in practical truth versus truth on paper. You need to purposefully choose other paths in order to not be left with a single type of bull…'
PROGRESS
'At KI Samen we want dairy farmers to be able to breed well-built cows, that produce easily, that last for a long time, and who require little extra work,' says Verhaag, who indicates that from KI Samen's perspective, cows need to be able to complete a minimum of four lactations and produce an average of 50,000 kg/110,000 lb. 'Two-year-olds don't need to produce the maximum, per se. On the other hand, it is important that cows have what it takes to develop and progress during the lactations. That they can develop into a tremendous cow without hassle.'
Verhaag reaches for the figures again. This time to the production transmitting per lactation for Big Malki; +83 kg in the 1st lactation, +900 kg second, +1200 kg third, +1600 kg fourth, +1750 kg fifth. 'Malki does not give daughters that immediately impress with their two-year-old productions, but they do make significant progress with each lactation. That is what we like to see.' As a second example, Verhaag mentions Malki's maternal grandsire Skalsumer Jorryn. 'When you see the high portion of 100,000 kg/220,000 lb cows among his daughters, that is truly impressive.' 
 Scheepens adds to his colleague's statement: 'Ponsstar Shogun is even higher in terms of the portion of 100,000 kg cows. Through the years, his index has only increased still further, and he is now higher than many of the "elite sires" that were far above him at the time.'
PRACTICALLY PROVEN
According to Scheepens, it is frustrating at times to see that KI Samen sires often begin relatively low compared to other sires, and who based on daughter information, continue to increase. 'Practically proven; it is not for nothing our strong business slogan. That slogan is actually more current than ever. Farmers are encountering problems more and more often.' Verhaag fully underscores this: 'Often they only notice this when things are not going well at all, and not seldom they opt for crossbreeding. While there are also alternatives within the Holstein breed, even though they are becoming more scarce,' says Verhaag, who indicates that KI Samen is strongly committed to maintaining that variation. By purchasing different types of sires and by developing different types of female lines on their own dairy farm.
How is it working out for KI Samen to attain sufficient variation in the sire line-up? Verhaag: 'First of all, by not blindly staring at indexes. We let go of NVI and RZG, and use our own internal selection values.' Scheepens: 'As such, we look at the most significant reasons for why cows are culled prematurely; fertility, hoof health/feet & legs, and somatic cell. These traits receive extra attention from us. After that, production, where we place more emphasis on components than on milk.' The build of sires, according to Scheepens, also plays an important role – they like to see bulls with round traits.
Since KI Samen's selection method is different, different types of sires arrive, shares Verhaag. 'We aim for a sire line-up with sufficient variation, for sires with which farmers can breed good cows, cows that can get old, and can achieve a high lifetime production.'
ALTERNATE
In order to achieve the breeding goals, KI Samen regularly purchases sires from new and unknown maternal lines with alternate bloodlines. From several generations of good cows, who display progress across lactations and reach high lifetime productions. As an example, Scheepens mentions Ribbs Skik (aAa: 516), a son of Saul Hudson out of a Startrek dam. 'This bull descends from such good cows! The breeders were totally surprised that we were interested, as they had never had an AI on their property…' 
 Another promising young AI Samen sire is Silvester (aAa: 546), a Silver son out of a Wellness dam with 100,000 kg, from the long-lasting Elsje family of high producer Mooijman. 'In breeding, good is more important than fast,' says Scheepens candidly. 'For example, we just launched a Reflector son out of a Mascol dam with 100,000 kg. Also that is not especially rapid genetics, but it is a good sire out of a good cow family. With these types of bulls, we think we are serving our farmers better.'
MATURITY
The fundamental principles and mentality of KI Samen has not changed at all in forty years. However, on many fronts, innovations are being implemented. 'We have reached maturity and are working on improving our visibility,' tells Friesen. Full steam towards the golden anniversary. Verhaag: 'I think that our strategy in the coming ten years will be proven even more truthful. That we will steadily grow. With failures and successes, as we have experienced for the past forty years.''
EXPERIENCE TOUR
At a stone's throw from the modern AI facilities of KI Samen, we find the breeding and dairy farm Samen, where 480 (Red) Holsteins reach a rolling annual average of 5.01 2x 10,000 kg/22.000lb 4.43% 3.59% and an average lifetime production at culling of 46,395 kg/102,282 lb. Both enterprises form a two-in-one. The breeding and dairy farm on the one hand are used to broaden the female genetics, while on the other hand, it offers an opportunity to practically display the Samen philosophy. 'We facilitate a complete "experience tour".
Visitors are presented with the bulls, an explanation of our breeding strategy, and a tour of the dairy and breeding facilities. In this way, we can practically show how the KI Samen philosophy works,' tells Guus Verhaag, who indicates that they currently receive two to three groups per week. 'Our goal is to make this into a daily event. We even have sleeping accommodations for international visitors.'
Source: Bert Wesseldijk and Han Hopman. Article published in Holstein International edition november 2022