The total package dominates
Consistently following the bulls in each index run reveals how they progress. As their number of lactating daughters increases, the bulls continue to demonstrate their qualities. In practice, we see time and again that breeding bulls from K.I. SAMEN keep on improving. One example that speaks volumes is Big Malki. This bull started well, then dropped slightly in the rankings, before making such a strong recovery based on the performance of his daughters that he has now overtaken the former number one bull in the Netherlands.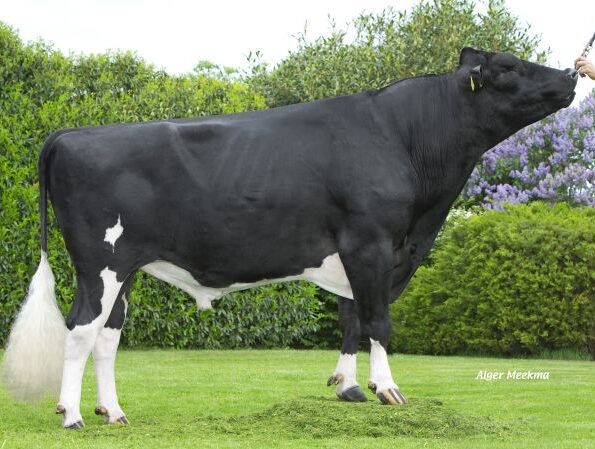 Follow the line of progression
Big Malki has noted an enormous increase in kg of fat and kg of protein from the first to the fifth milk yield record: more than 95 kg fat and protein. This increase over the successive lactations not only illustrates the rise in productivity, but also shows that Malki daughters can easily cope with higher milk production. As an added bonus, Malki is producing an impressive line of cows rated excellent. This is a unique performance as it combines explosively higher production with cows that have inherited improved conformation and health traits. Malki remains a top league player in terms of udder health, legs and hoof health.
VDR Slash (Balu x Malki x Minos) noted a further improvement in his component percentages, as evidenced by the second milk yield record of his daughters. VDR Slash originates from a highly successful cow family that has high components and good conformation embedded in its DNA. With his aAa code of 153 and beta casein A2/ A2 and kappa-casein BB, he also offers highly sought after traits.
De Volmer Barbaros is at the very beginning of his career, but already stands out thanks to his all-round inheritance pattern. He descends from the successful Shauna and Barbie cow families. Barbaros daughters are well-built cows with plenty of capacity and positive scores for udders.
New pedigree
Two, unique bulls are particularly noteworthy in the in index run – Rijnhof DG Brian and VandenBerg Vermont. They are both the only sons of their respective sires so bring some vital diversity to the pedigree lines.
SAMEN excels together
Huntje Holstein Red River descends from the Anemoon family (Fraiko dam) and was sired by Riverboy. His daughters have very good conformation with excellent scores for udder health and fertility. Red River enjoys an excellent ranking in the Dutch index but also belongs among the top bulls in the German merit index.
The absolute all-rounder Grashoek Conqueror (Pp) produces daughters of average stature, and scores very well for all conformation traits. Conqueror (Pp) is an outstanding addition to the polled breeding offer with his unusual bloodline and the good width he brings. MacGyver van de Peul impressively improves the component percentages. Both bulls contribute the desired width to create better balance in the herd. Potential show winners GD RH Alphaman and Aladdin-Red also improved the figures for their component percentages. Newcomer Hedra All Right merited super component scores and milk production that we expect to increase in the future.
Belgian Blue beef on dairy breeding programme is perfect proof
K.I. SAMEN operates the largest, most efficient and innovative Belgian Blue beef on diary breeding programme. For many years, selection has been based on calving ease and shorter gestation lengths. Farmers are seeing the results of this focus in their own herds. This success is confirmed by the index run; Bruno van de Plashoeve is the top performer. The focus on calving ease and shorter gestation lengths is reflected in the entire line. Newcomers Ard van de Plashoeve and Ruud van de Plashoeve are perfect proof of our approach to the breeding programme.